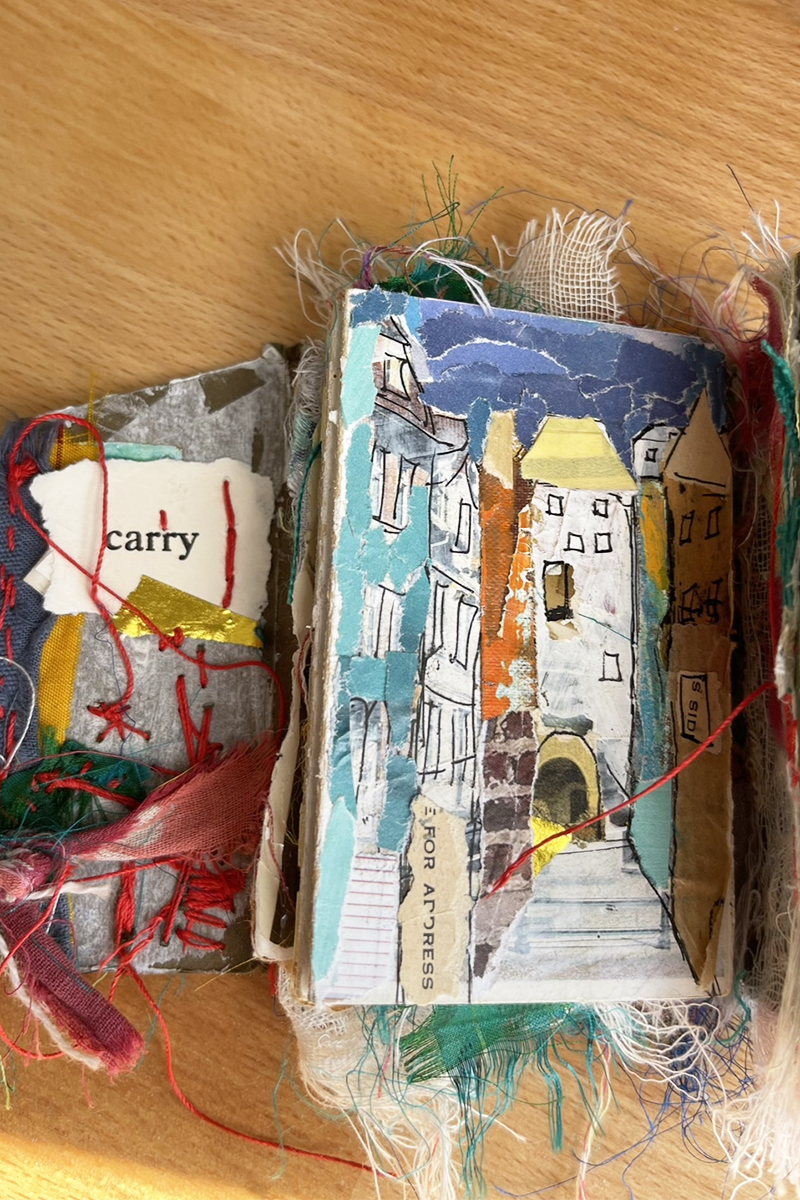 Tiny Sacred Art Journals... part two
The Travel Journals: using paper (& so much more) as our camera.
This workshop is an invitation to travel lightly beside me, both near and far. Travel is a relative term as I am talking about local travel, foreign travel, a quick overnight, a weekend away or simply a bit of time to escape the everyday.
We will strip away all the over thinking. Very little is needed and I find the more limited my palette is, the more my creativity expands.
Over the past year, I have created some beautifully expressive and unique Tiny Sacred Journal using no paint. Instead I paint with paper, recreating the scenes before my eyes as if it were a vivid photograph. Sometimes I pack just a bit of fabric, paper, thread, a glue stick and whatever is in front of me into a small bag...and my creative soul takes flight.
I find color all around me….blue sky from sugar packets…a rocky beach line from a soap package. 
Using only what we have plus what we can find & working small is SO full of freedom. 
Gratitude For Tiny Sacred Art Journals Course!
"Thank you for this wonderful and amazing class. You have truly inspired me and I have had so much fun along the way. I love the process and your teaching style."
***
"Thank you so much for all the incredible inspiration.Your classes are life-changing, honestly."
***
"Thank you isn't enough, Colleen.. I'm not sure what is."
***
"I have really enjoyed every little video , words, bits and pieces through out , your softly spoken instructions given.....everything. You can hear and feel the love, satisfaction, happiness in your voice while you do each and every little book."

***
"Loving this workshop and waking up feeling so inspired to create a small treasure! Thanks so much for the love you put into each video."
***
"I feel blessed that you make this very affordable and generous offerig that I will continue to re-watch over time. Like many others have noted, you feel like a friend and you are now part of my experience. Gratitude and love to you Colleen."
***
"I haven't even done all of your course yet but it has captured a part of my heart. I can't describe it. It's just so perfect."
*Ps. I feel so blessed as there are hundreds of thank you's for the Tiny Sacred Art Journal Course.*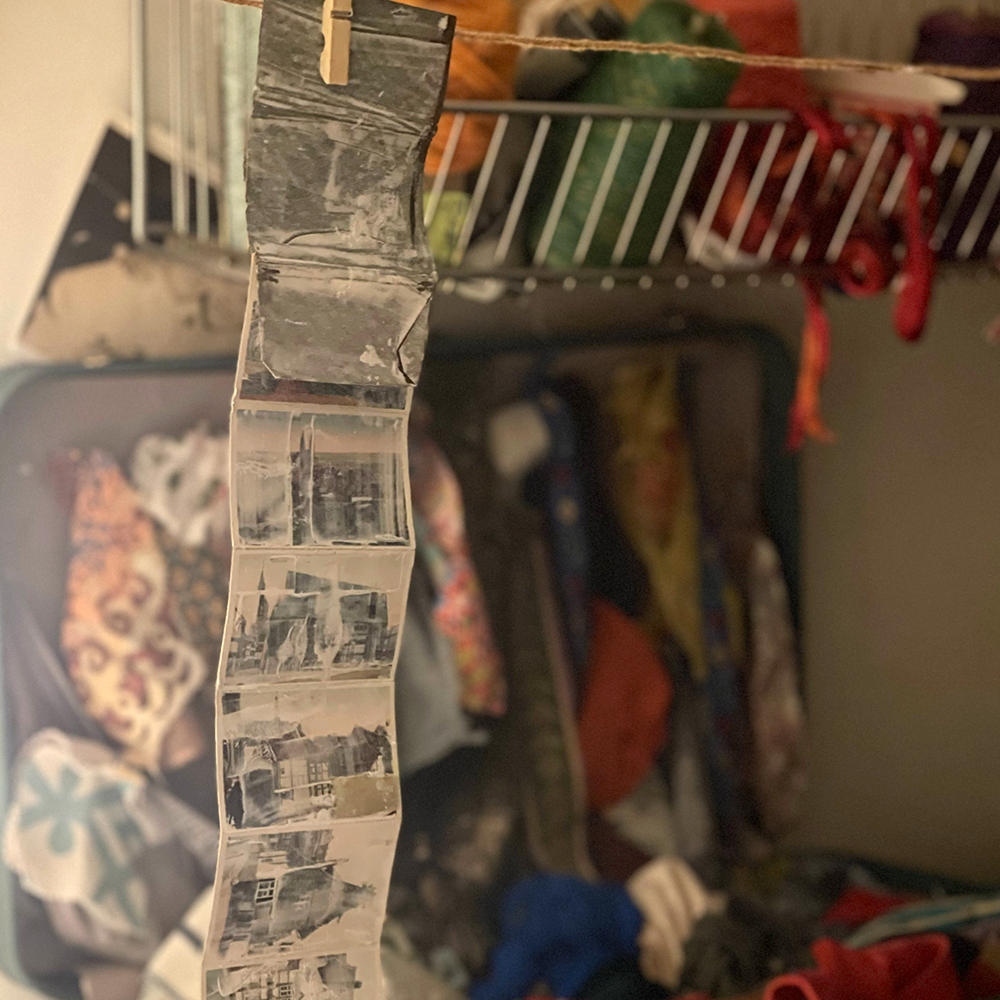 I will share the work done behind the scenes; how I prep my pages prior so I can travel lightly. ps. We are designed as humans to travel lightly in our heart, mind & body.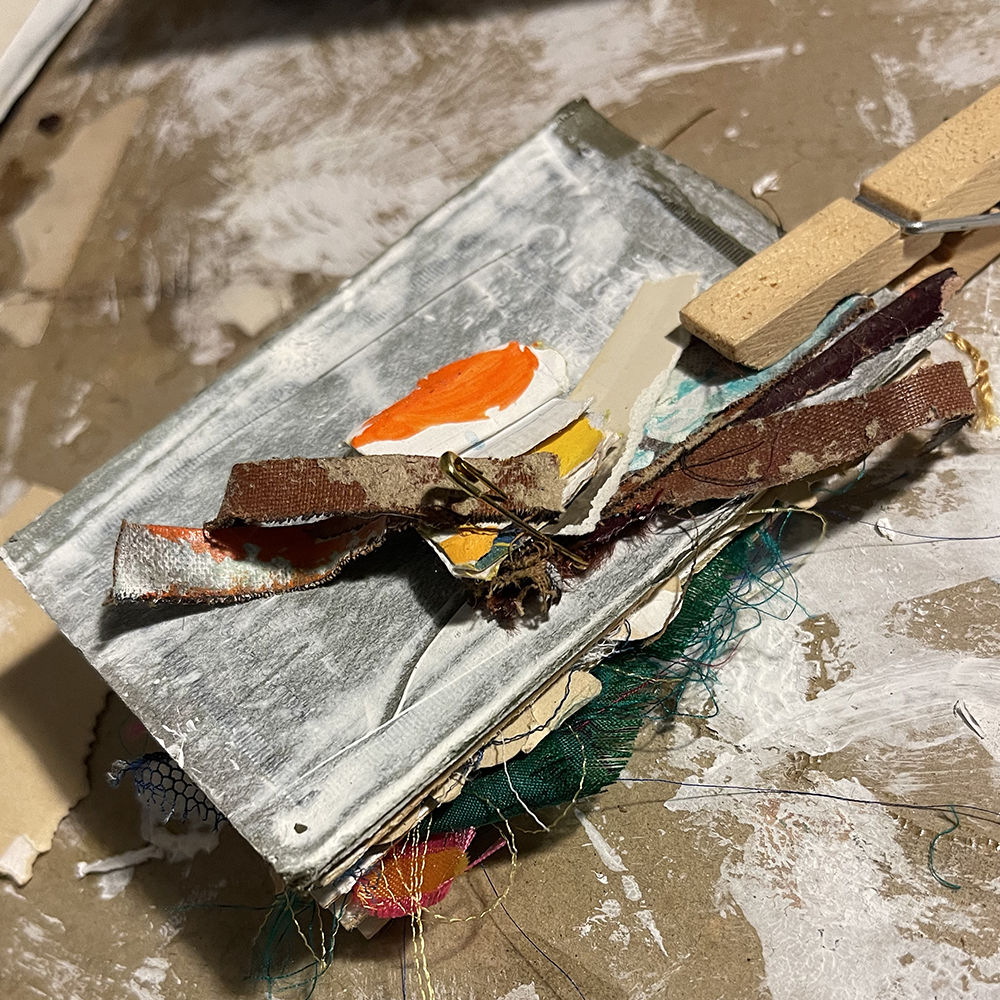 Packing our supplies...


We will limit our supplies so we can tune into our innate creativity.
I will share in detail how I pack & plan for creativity near and far...from a car ride to a trip abroad.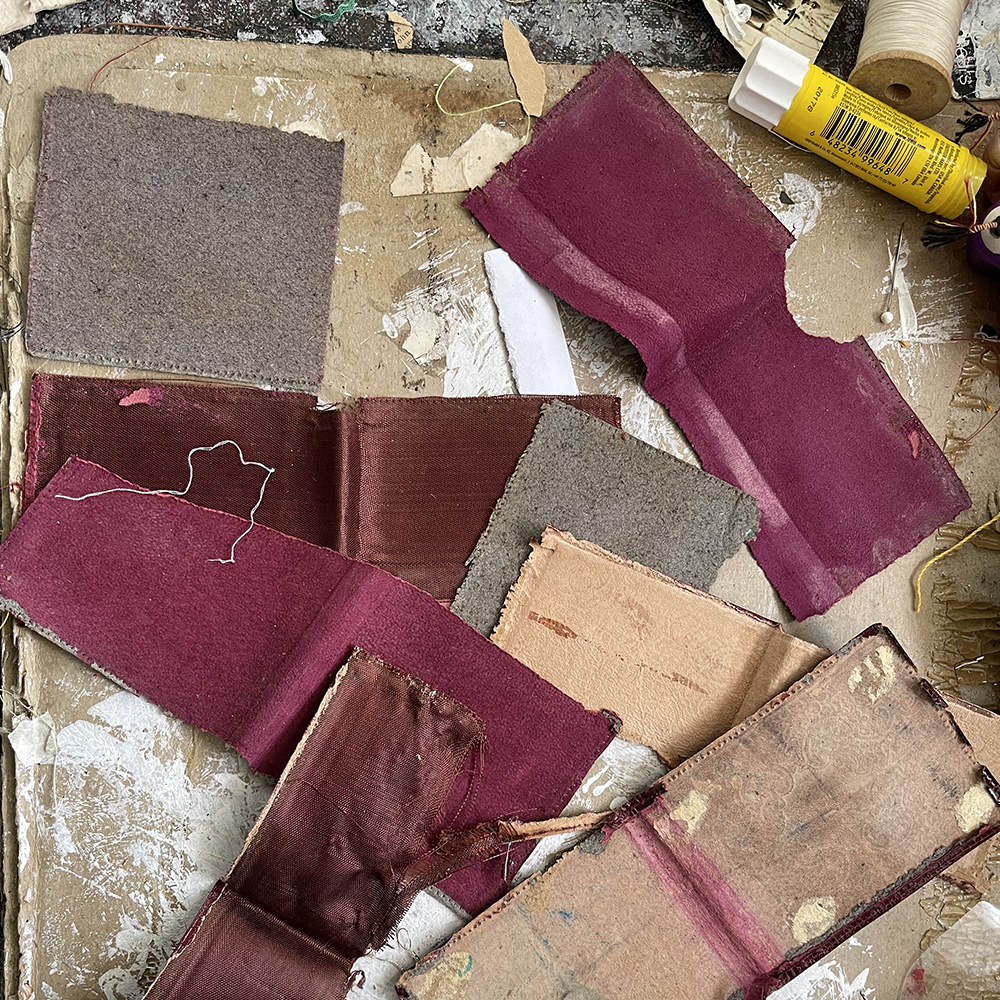 Possibility in the unexpected...
This is my favorite part of teaching; sharing a point of view. We are going to use some unexpected materials as the base of our sacred journals...all the while remembering there is possibility in the overlooked.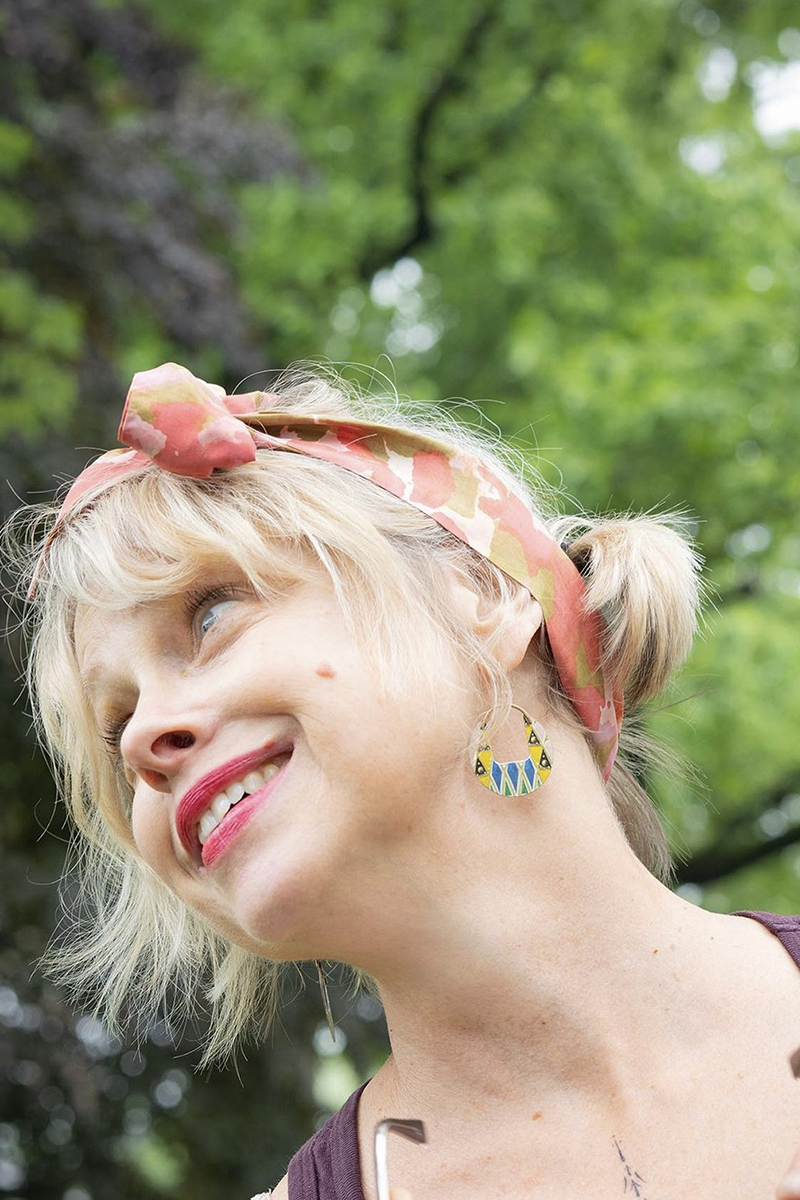 My style of teaching:
Intimate. My online classes feel like you are working beside me.
Real. If I sneeze during the video, I say "bless me please" & move on. I love discovering ideas in real time, so get ready for spontaneous bursts of joy.
Honest. What I am sharing with you is my creative process. These are the thoughts behind the work as well as techniques, my "why" for the books I share. My classes are the only place I do that level of sharing.
Collaborative. We will have a forum that we can communicate in the lectures. I will answer your questions both in the comments but also you will have access to a group. I love this part.
Format:
Videos "how do". Short enough to keep your attention & deliver an idea. I also love time lapse videos.
Videos "stories". These are videos where I share the story behind my journals.
Photos: Colorful, step-by-step, & before and after. I love photos.
Text: Clear, concise and so encouraging.
Links: To information or something I mention in a video.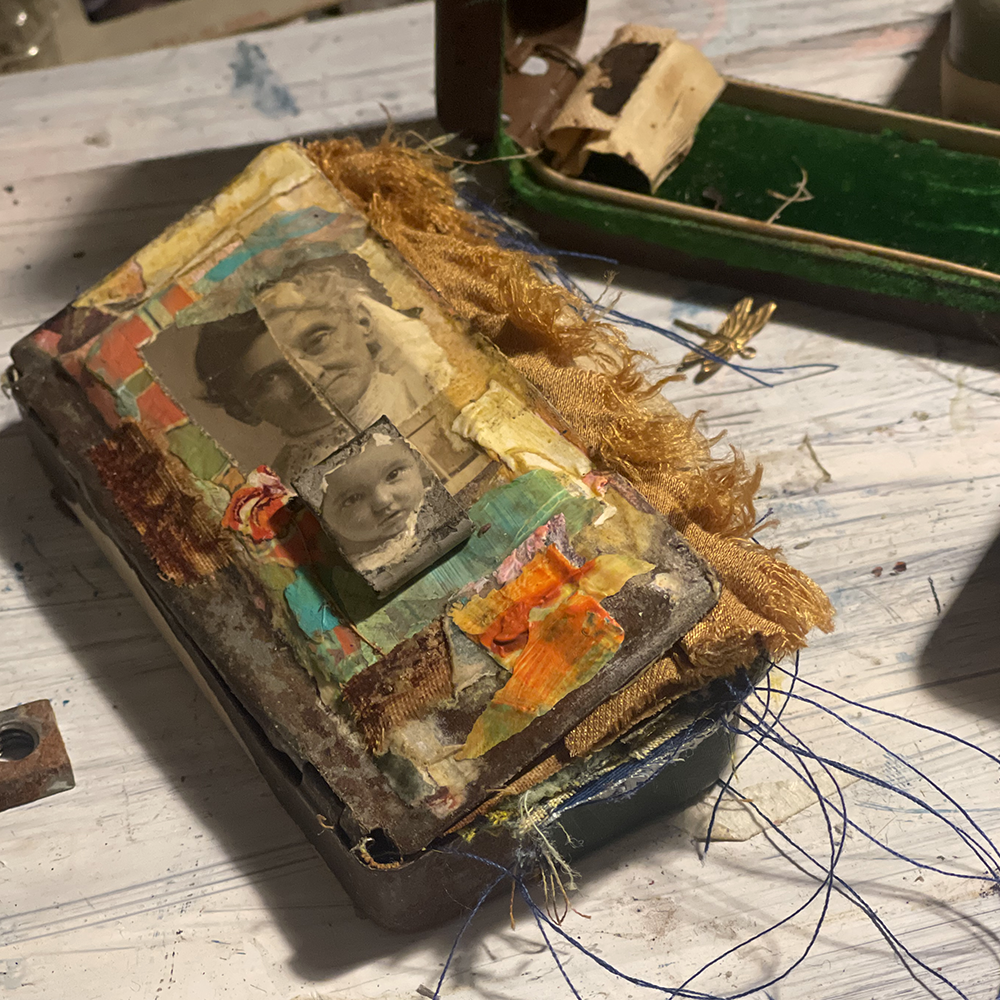 What do I need for this course?

I suggest you take the original Tiny Sacred course if you have not as it is a gem and this course is a continuation.
So If you took it already you are 85 percent ready!
I believe the world is our art store. Here are some of our needed art supplies:

-a men's wallet (found at a thrift store, flea market, or ask your husband or son!)
-an egg carton
-an eyeglass case
-a small paper bag with handles
-a ring box from a jewelry store that is wrapped in cloth or velvet.

Standard materials for my classes (we just keep taking ideas further and further...xo):
-masking tape, packing tape, gel medium, gesso, an open mind, a willing heart, thread, a needle, paper solvy, a glue stick, some form of color, a pencil, a thin point marker, clothes pins, & access to cardboard.
*sewing machines are lovely to have but not necessary.






Showcase other available courses, bundles, and coaching products you're selling with the Featured Products block to provide alternatives to visitors who may not be interested in this specific product.

Check your inbox to confirm your subscription